Cette semaine j'ai eu la chance d'interviewer la talentueuse chanteuse américaine Alyssa Bernal. 
How do you define yourself ? (Comment vous définissez-vous ?)
Shy, big heart and hard worker.
(Timide, grand coeur et travailleusse acharnée)
At what age did you start music ? (À quel âge avez-vous commencé la musique ?)
I started singing as young as 4 but I was about 17 when I decided to pursue music.
(  J'ai commencé à chanter dès l'âge de 4 ans mais c'est vers  l'âge de 17 ans que j'ai décidé de faire de la musique.
How many instruments you play ? (combien d'instruments jouez-vous ?)
2 (guitar and ukulele)  2 (Guitare et Ukulélé)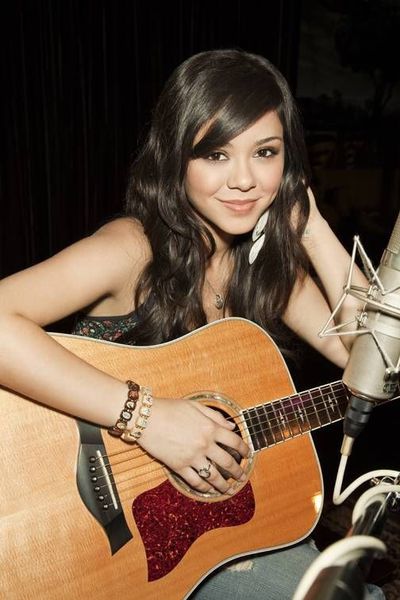 what is your favorite artist ? (Quel est votre artiste préféré ?)
Lately Justin Timberlake and Bruno Mars.
(Dernièrement Justin Timberlake et Bruno Mars)
Have you ever traveled to Belgium and France ? (Avez-vous déjà voyagé en Belgique et en France ?)
Nope ! (Non !)
Have you got the idea to participate in a reality show ? (Avez-vous eu l'idée de participer à une émission de télé réalité ?)
Yes! I tried it out though and it wasn't for me.
(Oui ! J'ai essayé  mais ce n'était pas pour moi.)
How many languages ​​do you speak ? (Combien de langues parlez-vous ?)
Just English. But I can understand and say some words in Spanish !
(Juste l'anglais. Mais je peux comprendre et dire quelques mots en espagnol !)
What are your musical influences ? (Quelles sont vos influences musicales ?)  
Jason Mraz and Corinne Bailey Rae
(Jason Mraz et Corinne Bailey Rae)
If I suggest you do a duet with me? - You say yes / no / or negotiate. (Si je vous suggère de faire un duo avec moi? - Vous dites oui / non / ou à négocier).
Negotiate ! (A négocier !)
How many hours per week do you work on your music?
Let's just say one fourth of a day I am working on music
Do you play video games ? (Jouez-vous aux jeux vidéo ?)
yes (oui)
Are you an addicted to social networks? (Êtes-vous une addicte aux réseaux sociaux ?)
 Yes ! (oui !)
What are your series and movies you watch? (Quelles sont vos séries et films que vous regardez ?)
I love Supernatural and anything sifi or horror. 
(J'adore Supernatural et n'importe qu'elle série d'horreur sur sifi ) 
Are you a fan of all high-tech products? (Êtes-vous une fan de tous les produits high-tech ?)
Sure ! (Bien sûr !)
Which option do you use most on your phone?
 Text messaging and camera! ( SMS et appareil photo)